Date/Time
Friday 08/06/2021 9:00 am - 12:00 pm


Location
CATC Art Studio
judysjourneys.jr@gmail.com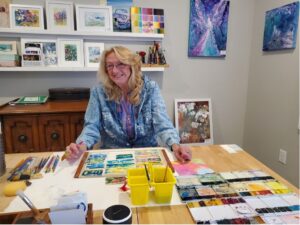 ADVANCED WATERCOLOR CLASS
INSTRUCTOR:  Judy Ross  (Friday mornings from 9:00 to 12:00 p.m.)
4-week class on Friday mornings 9-noon. (August 6,13,20,27)
You have now completed the beginning watercolor class.  You have now completed the intermediate watercolor class.  What next?  The answer is easy…move onto the advanced watercolor class!  Judy will help by stretching watercolor painting to new heights!  She will do that with the use of Mixed media-Black Ink medium, Yupo, Brusho, use with inks.  You will learn how to take old paintings and make them new again with the use of these techniques.  Splash paint and see what appears!  You will also do a more in depth study of negative painting composition.  This adds more interest to your paintings.  At this level, you will be able to bring out the true artist in yourself!  What a great way to spend those HOT summer days in Arizona!
Costs for this class is $20 per session.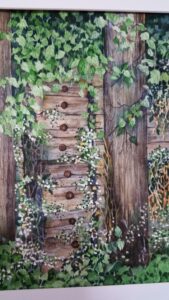 Registration opens July 23.
Class is limited to nine students.
SAFETY GUIDELINES
 Masks are OPTIONAL for FULLY VACCINATED students;
NOT VACCINATED students should wear a mask and maintain 6′ distancing
SUPPLY LIST:
Paints: Winsor/Newton Professional Watercolors                          Brushes:  Wash Brush- 1 1/2 Hake or Sable
*New Gamboge (Yellow)                                                                                 Rigger Brush #2-5
*French Ultramarine (Blue)                                                                           Flat Square Brush-3/4 or 1 " Angle Ended
* Alizarin Crimson (Red)                                                                                 Round Brush #8
 Sepia                                                                                                                    Fan Brush
 Burnt Sienna                                                                                                      Old oil brush/bristle brush
 Raw Sienna
Sap Green
Paper:  140 lb. Cold Pressed ARCHES Winsor/Newton  (Block is best for class)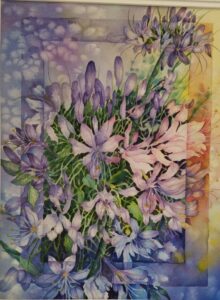 Materials:
Palette
Water Jug/Tray
Small and Large Masking Tape
Paper Towels-Toilet Paper
Natural Sponge
Any questions, please email Judy at: Judysjourneys.jr@gmail.com or call at 760-310-3295.
To register, click on the SUBMIT button below. Your name, email and phone number will be sent to the instructor automatically, and you will receive a 'request received' email, followed by an email that your space is either confirmed or denied (if class is full). All classes you have registered for will be listed under "MY REGISTRATIONS" in the main menu (shown above if you are logged in). If you do not see the Register button, registrations are not open for this class yet, or the class has already begun and registrations are closed. YOU MUST BE LOGGED IN TO REGISTER. Go back to home page or activities list to find the login area. If you are not a member, you must join the club and request a website account before taking classes. Find out how under HOW TO.
Registration
Advanced Watercolor Class (4 weeks)