Date/Time
06/25/2021 - 07/02/2021
Fridays 1:00 pm - 4:00 pm

Location
CATC Art Studio
vhutcheson@msn.com
Adventures in Scratchboard Class
Instructor: Ginny Hutcheson
LEVEL:  BEGINNING  (Note:  Should have taken a Come and Try It Scratchboard class or have worked with Scratchboards previously.)
DATES:  JUNE 25, 28 and JULY 2, 2021
Now that you have had some exposure in working with Scratchboard Art as a medium, it is now time to proceed to that next level to become more proficient.  This 3 session class will consist of adventures in working with the different tools on scratchboard.  You will learn the various types of strokes involved to developing a picture that comes alive.  Once you have created your picture, Ginny will show you all of the different mediums available to add color to your scratchboard.  She will then show you how to finish the picture along with providing you an introduction to clayboard.  And to accomplish all of this…all you need do is sign up for her class!  Don't spend your summer wondering what to do when it gets hot outside.  Stay inside and become creative!
When: This three (3) session class is held on Friday, June 25; Monday, June 28; Friday, July 2, 2021.  All classes are held from 1:00 t0 4:00.
Fee: $20.00 paid at the beginning of each class.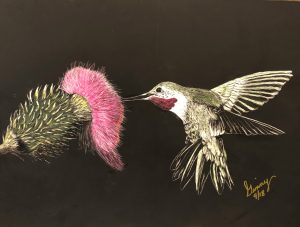 Registration: Registration for this class will open June 1, 2021. Just click below.
If you have questions, please email Ginny Hutcheson at:  vhutcheson@msn.com or call:  520-906-0930.
GUIDANCE GUIDELINES:
 Masks are optional for fully vaccinated students; and
 Not vaccinated students should wear  a mask and maintain 6 feet distancing.
Supplies needed:  A plastic sheet to cover 1/4th of a 6 ft. table PLUS:
5×5, 5×6, 6×6 or 5×7 scratchboard (Ampersand is a good brand)
X-Acto knife or scratch knife and any other tools you may want to use
2 copies of a 5×5, 6×6 or 5×7 clear picture matching the size of the board.  One clear picture is black and white and one in color.  (Preferably something with feathers, fur, hair or texture.)
One 2B graphite pencil
white transfer paper
tracing paper
masking tape, kneaded eraser or dusting brush
watercolor pencils or watercolors and brush
OPTIONAL:  Bring a 12×12 piece of heavy cardboard or foamboard to mount scratchboard onto while working on the board.
NOTE:  Ampersand inks are great for repairing and adding colors but are optional.
Registrations are either not yet open (registration usually starts two weeks prior) or are closed for this event because the class has already started. If the class has already started, contact the instructor to see if you can still join.
Adventures in Scratchboard Art ( 3 sessions)