Date/Time
01/06/2022 - 01/27/2022
Thursdays 9:00 am - 12:00 pm

Location
CATC Art Studio
judysjourneys.jr@gmail.com
Basic Drawing for Beginners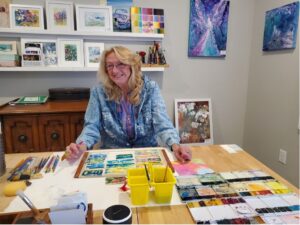 Instructor: Judy Ross
Medium: Drawing
When: Thursdays, January 6, 13, 20 & 27.   9:00 am – Noon.
Fee: $80.00 for the four-week series of classes. Please pay at the first class.
This class is designed for beginning drawing. Come and join us,and learn to Draw! We will use techniques of pencil, charcoal, pen & ink and watercolor. Discover textures of shading, values, perspective, composition and structure of a painting. We will be doing exercises to feel the shift, and moving on to your full creative potential! Learning to see again!
If you have any questions please Contact Judy Ross at (760) 310-3295 or judysjourneys.jr@gmail.com.
Registration: Registration will open December 22, 2021. The class is limited to ten (10) students.
Supplies: Please Contact Judy for the list of supplies.
SAFETY GUIDELINES:
Masks are required for all students in this class. 6 ft distancing will be maintained.
Basic Drawing for Beginners