Date/Time
09/03/2021 - 10/01/2021
Fridays 9:00 am - 12:00 pm

Location
CATC Art Studio
judysjourneys.jr@gmail.com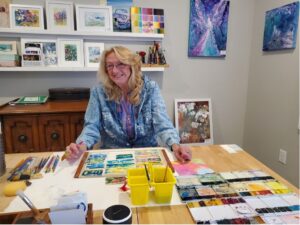 BEGINNER WATERCOLOR
INSTRUCTOR:  Judy Ross  (Friday mornings from 9:00 to 12:00 p.m.)
4-week class on Friday mornings 9-noon. September 3, 17, 24 & October 1
Have you ever thought that you would like to take a painting class but didn't quite have the knowledge base you would like?  Have you ever dabbled with painting on your own and found yourself not getting the painting that you see in your mind?  Are you looking for someone who can get you to that place where you can be proud of that finished masterpiece?  Well, here may be the class for you!  With Judy Ross you will learn the fantastic quality of transparent watercolor in 7 easy steps!  She will take you through the use of materials and special techniques to create trees, rocks, water, oceans, fog, ice, desert landscapes, rain, reflections, clouds, sunsets and much more!  Remember…unless you take that first step, you go nowhere.
Costs for this class is $20 per session.
Registration opens August 21.
Class is limited to nine students.
SAFETY GUIDELINES
 Masks are OPTIONAL for FULLY VACCINATED students;
NOT VACCINATED students should wear a mask and maintain 6′ distancing
NOTE:  Before purchasing supplies, please email or call Judy.  She wants to discuss materials/supplies at the first class and wants you to bring only a minimum of supplies needed for that day.  
SUPPLY LIST:
Paints: Winsor/Newton Professional Watercolors                          Brushes:  Wash Brush- 1 1/2 Hake or Sable
*New Gamboge (Yellow)                                                                                 Rigger Brush #2-5
*French Ultramarine (Blue)                                                                           Flat Square Brush-3/4 or 1 " Angle Ended
* Alizarin Crimson (Red)                                                                                 Round Brush #8 (Optional)
 Sepia (Optional)                                                                                                Fan Brush (Optional)
 Burnt Sienna (Optional)                                                                                  Old oil brush/bristle brush (Optional)
 Raw Sienna (Optional)
Sap Green (Optional)
Paper:  140 lb. Cold Pressed ARCHES Winsor/Newton  (Block is best for class)
Materials:
Palette
Water Jug/Tray
Small and Large Masking Tape
Paper Towels-Toilet Paper
Natural Sponge
Any questions, please email Judy at: Judysjourneys.jr@gmail.com or call at 760-310-3295.
Beginner Watercolor Class -4 Week Course