Date/Time
Friday 07/16/2021 1:00 pm - 4:00 pm


Location
CATC Art Studio
judysjourneys.jr@gmail.com
Brusho Workshop-July 16, 2021
INSTRUCTOR:   Judy Ross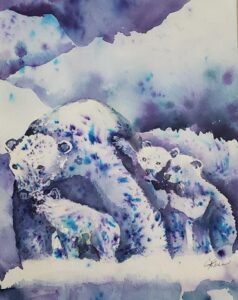 Friday, July 16, 2021 (1:00 to 4:00)
Level: Intermediate Level (Should have an understanding of watercolors.)
You are now pretty good at painting with watercolors. And, maybe you are looking for something a little out of the ordinary to try.  Judy Ross is offering a one day workshop on how to use dry watercolor crystals with your watercolors.  You have the choice of creating exciting realistic or abstract paintings.  Judy will show you how to "spice" up those paintings.  Here are some of her Brusho paintings.  To the right are Brusho Bears.  The bottom left is a Brusho Hummingbird.  The bottom right is a Brusho Sailing Regatta.  This painting, though a poor photo, is 2 1/2″ x 3″ and received the Best in Show Award at the Mini Masters of Palm Springs Show.
The cost for this ONE DAY workshop is $20.
SUPPLIES TO BRING:
Watercolor paints/inks (if you have them)          Bleach in small sprayer or Mr. Clean squares
Watercolor Brushes                                                   natural sponge
140 lb. watercolor paper                                           Miskit
Small empty palette (cheap one)                             Soft large makeup brush or small vacuum to pick up unwanted crystals
Water bucket                                                                Colored pens
paper towels/kleenex                                                  Several photos or pictures of painting ideas
Small sprayer of water                                               Cover for the table top
NOTE:  Judy will supply watercolor crystals/mediums and wax at NO charge to students.
NEW GUIDANCE GUIDELINES:
1.  Masks are optional for fully vaccinated students; and
2.  Not vaccinated students should wear a mask and maintain 6 feet distancing.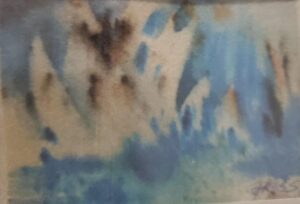 Class size is limited to 10 students.
For more information about the class, email the teacher at:  judysjourneys.jr@gmail.com
To sign up, go  to this page:  Come & Try Its, Open Studios and Workshops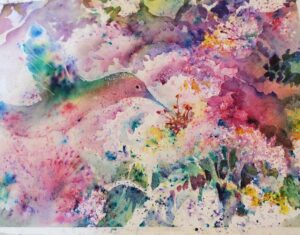 Brusho Workshop (One Day)-July 16, 2021