Date/Time
Friday 10/16/2020 1:00 pm - 4:00 pm


Location
CATC Art Studio
vhutcheson@msn.com
COME & TRY IT – Scratchboard
Instructor: Ginny Hutcheson
The club provides residents with a unique opportunity to try a new art medium without making a large investment. If you have never painted before this is the workshop for you! If you have painted but want to try out a new medium, this is the class for you! You will receive professional instruction and all the necessary supplies for this class. You may sign up for any or all workshops. The workshops are intended for absolute beginners. You will receive hands-on-time with the materials and techniques of the medium. It is a great way to remove the intimidation of getting started in painting.
Scratchboard is a two-dimensional, subtractive process to reveal a subject in a black and white painting. Using an X-acto knife or scratch knife, you will scratch off the black India ink on the hardboard to reveal white clay underneath. Scratching on the board will reveal the picture you are developing.
The pattern, tools and scratchboards will be provided for you. The subject for this class will be of something like a bird, cat, wild animal, etc.  You do not need drawing or painting experience because this class teaches you how to develop the subject from a pattern that is traced onto the scratchboard.
Please bring a table cover that covers 1/4th of a 6′ table.  Scratchboard supplies will be provided by the Fine Arts Painting Club.
Contact Ginny Hutcheson at vhutcheson@msn.com or 520-906-0930 to register for the class. The class is free and limited to 6 students.
Registration: Registration is open. $20.00 for the class.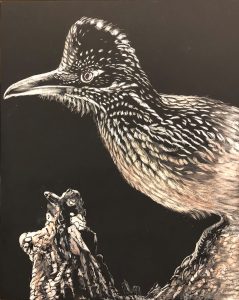 To register, click on the SUBMIT button below. Your name, email and phone number will be sent to the instructor automatically, and you will receive a 'request received' email, followed by an email that your space is either confirmed or denied (if class is full). All classes you have registered for will be listed under "MY REGISTRATIONS" in the main menu (shown above if you are logged in). If you do not see the Register button, registrations are not open for this class yet, or the class has already begun and registrations are closed. YOU MUST BE LOGGED IN TO REGISTER. Go back to home page or activities list to find the login area. If you are not a member, you must join the club and request a website account before taking classes. Find out how under HOW TO.
Registration
Registrations are either not yet open (registration usually starts two weeks prior) or are closed for this event because the class has already started. If the class has already started, contact the instructor to see if you can still join.
COME & TRY IT – Scratchboard