Date/Time
07/08/2021 - 07/29/2021
Thursdays 9:00 am - 12:00 pm

Location
CATC Art Studio
judysjourneys.jr@gmail.com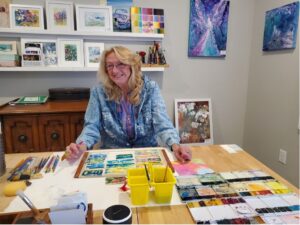 INTERMEDIATE WATERCOLOR CLASS
INSTRUCTOR:  Judy Ross  (Thursday mornings from 9:00 to 12:00 p.m.)
4-week class on Thursday mornings 9-noon. July 8, 15, 22 & 29
You have finished up on that beginner level watercolor class but now is not the time to stop!  There is much to learn in watercolor and while things are fresh in your mind, you need to look at another level of watercolor painting…the intermediate level.  Judy is willing and able to help you into that level and work towards the next level…an advanced level of watercolor.  Judy will instruct you in Theory of Color; transparent/opaque-staining colors; value scales; glazing and illumination of graded washes.  Structure more in depth, composition, shapes, understanding negative/positive to bring harmony in a painting; exploring wood techniques, along with tin and crystal.  She will work with you to bring out that budding artist within you!
Costs for this class is $20 per session.
Registration opens June 24.
Class is limited to nine students.
SAFETY GUIDELINES
 Masks are OPTIONAL for FULLY VACCINATED students;
NOT VACCINATED students should wear a mask and maintain 6′ distancing
SUPPLY LIST:
Paints: Winsor/Newton Professional Watercolors                          Brushes:  Wash Brush- 1 1/2 Hake or Sable
*New Gamboge (Yellow)                                                                                 Rigger Brush #2-5
*French Ultramarine (Blue)                                                                           Flat Square Brush-3/4 or 1 " Angle Ended
* Alizarin Crimson (Red)                                                                                 Round Brush #8
 Sepia                                                                                                                    Fan Brush
 Burnt Sienna                                                                                                      Old oil brush/bristle brush
 Raw Sienna
Sap Green
Paper:  140 lb. Cold Pressed ARCHES Winsor/Newton  (Block is best for class)
Materials:
Palette
Water Jug/Tray
Small and Large Masking Tape
Paper Towels-Toilet Paper
Natural Sponge
Any questions, please email Judy at: Judysjourneys.jr@gmail.com or call at 760-310-3295.
Registrations are either not yet open (registration usually starts two weeks prior) or are closed for this event because the class has already started. If the class has already started, contact the instructor to see if you can still join.
Intermediate Watercolor Class (4 weeks)