Date/Time
Monday 06/07/2021 1:00 pm - 4:00 pm


Location
CATC Art Studio
president@qcfapc.com
OPEN STUDIO – JUNE 7 & 14
FAPC will be holding Open Studios on June 7 and June 14.  This is another great opportunity to get together with friends and do something creative and fun while visiting.  Whether you want to work on the current art challenge or if you are working on your own project, why not take advantage of the art room availability?  It looks like we are going to have a pretty busy summer schedule, so there is no guarantee on how many more Open Studios we will have.  Why not take advantage of all the available space to spread out and not be cramped?  Go for it!
NEW ADDITION TO JUNE 7 OPEN STUDIO!
Terry Smith has agreed to do a free demo on "Creating Art on the IPad on June 7.  Terry will show you how to be able to create art "on the go" without bags of art materials.  Using the Procreate app on the IPad is a wonderful way to sketch and paint.  Requirements include an IPad (ios 11.1 or later) the Procreate app (only $9.99 at the App Store) and a little bit of introduction to this great tool!  It is works better with an Apple pencil (about $100) BUT you can use a stylus (soft rubber tip on end of a pen) OR even your finger.  Bring your IPad with the app loaded.  If you are not ready to purchase yet, Terry will still demonstrate the basics such as:  how to select a digital brush or pen; how to undo; how to select colors; and how to save and share your creation.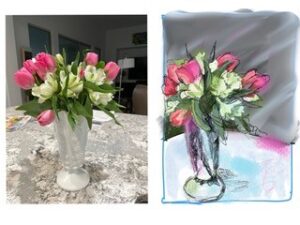 As always, we will be following the safety guidelines:
1.  Masks are optional for fully vaccinated students/members; and
2.  NOT vaccinated students/members should wear a mask and maintain 6′ distancing.
If help is needed downloading the Procreate App, Terry can assist,  if you bring your Apple ID and Password to the Open Studio.
To sign up for a particular date, go to this page:  Come & Try Its, Open Studios and Workshops