Date/Time
10/07/2021 - 10/28/2021
Thursdays 9:00 am - 12:00 pm

Location
CATC Art Studio
judysjourneys.jr@gmail.com
The Theory of Color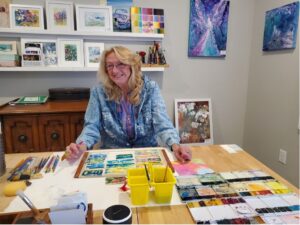 Instructor: Judy Ross
When: Thursdays, October 7, 14, 21 & 28. 9:00 AM – Noon.
This class is an extensive course in Color Theory – an important element to any painting regardless of the medium. You will learn about the COLOR wheel, color charts, value scales, color mixing charts transparent, and staining colors. We will use as our base medium watercolor, but this class applies to all mediums.
We will work with HUE, Shade, Tint, Tone, Values, Glazing and temperature of color. This is a extensive course in Color Theory. The class is designed for Intermediate/Advanced students who would really like to understand COLOR
Masks are required of all students for this class and 6 ft. distancing maintained.
Registration: Registration will open September 23, 2021. The class will be limited to ten (10) students due to COVID.
Supplies: Bring your own supplies. Please remember a plastic table cloth.
SAFETY GUIDELINES
Masks are required for all students in this class.
If you have any questions please contact Judy Ross at Judysjourneys.jr@gmail.comor call at 760-310-3295.