Date/Time
Monday 07/26/2021 2:00 pm - 4:00 pm


Location
CATC Art Studio
ANNHAY18@GMAIL.COM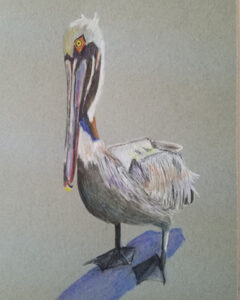 Is the weather getting too hot now?  Are you getting bored with doing the same old thing…day in and day out?  Are you looking for something that doesn't require a big time commitment?  Well…this may be what you are seeking!  Judy McCormick, our former FAPC president, is offering a two week class on Water Soluble Graphite and Water Soluble Colored Pencil.  If those terms seem unfamiliar to you, water soluble graphite is simply pencil that is soluble in water and looks somewhat like an ink wash.  It is great for sketching in a sketchbook.  It is easy to create a range of value in a drawing created on-site with just a bit of water and a brush.  It also gives loose sketches a painterly feel without using actual paints.  This results in a black and white picture.
Using watercolor pencils and graphite pencils are like using a "normal" pencil or colored pencil.  It is when you add water into the equation that their uniqueness appears.
These sessions will be fun for either the beginner or experienced artist!  You decide whether to work with either graphite or colored pencil…or better yet…both!  Students may choose to create greeting cards with these techniques if they so choose.
Level:  Beginner/Intermediate
Price:  $10 for a 2 hr. class
Time:  Monday, July 26 and August 2, 2021 from 2:00 to 4:00 p.m.
SAFETY GUIDELINES:
 MASKS are optional for FULLY VACCINATED students; and
NOT VACCINATED students should wear a mask and maintain 6′ distancing.
Supplies Needed:
 Choose either (or both) water soluble pencils or water soluble colored pencil.  Faber Castel or Derwent are good brands of water soluble graphite pencils. They usually come in sets of varying hardness.
  A minimum of 12 colors of water soluble colored pencils.  Prismacolor or Derwent or Faber Castel are good brands.  Cheaper brands usually have less color intensity.
 Several small to medium soft paint brushes.  (It is better not to use your good watercolor brushes if you already have them.)
  A small dish to hold water
  If you want to invest in some fun brushes, I suggest a set of water fillable brushes.  They come in sets of 5-6 and aren't too expensive and have different sized tip.  These work well with graphite and colored pencils.
  A drawing pencil, a Kneadable eraser and a white eraser.
  Paper towels and a table covering
  Sketchbooks:  A mixed media sketchbook at least 98 lb.  You might consider Strathmore 400 series mixed media paper-140-184 lb.  This is a thick paper of various colors.  Choose your favorite…but NOT BLACK.
  Greeting Cards:  I will sell you Strathmore watercolor 5 x 7 greeting cards with envelopes for 50 cents a piece for you to use in class if you wish to use these.
Contact Judy at 928-830-5234 or email at:  jemccormick11@gmail.com if you have any questions or for further information.
To register, click on the SUBMIT button below. Your name, email and phone number will be sent to the instructor automatically, and you will receive a 'request received' email, followed by an email that your space is either confirmed or denied (if class is full). All classes you have registered for will be listed under "MY REGISTRATIONS" in the main menu (shown above if you are logged in). If you do not see the Register button, registrations are not open for this class yet, or the class has already begun and registrations are closed. YOU MUST BE LOGGED IN TO REGISTER. Go back to home page or activities list to find the login area. If you are not a member, you must join the club and request a website account before taking classes. Find out how under HOW TO.
Registration
Water Soluble Graphite & Colored Pencil Excursion