Are you interested in art? Whether you are a beginner or a master, the Quail Creek Fine Arts Painting Club offers residents a wealth of opportunities to be creative. Programs include classes, workshops, demos, lectures, open studio time, art shows, exhibits, field trips and more. All types of drawing, painting and two-dimensional fine arts are welcome.
The club is housed in the Creative Arts and Technology Center, in the Fine Arts Studio, Room #103. The studio is 1600 SF with large windows and a covered patio area. Two large display windows offer the opportunity to display and sell artwork.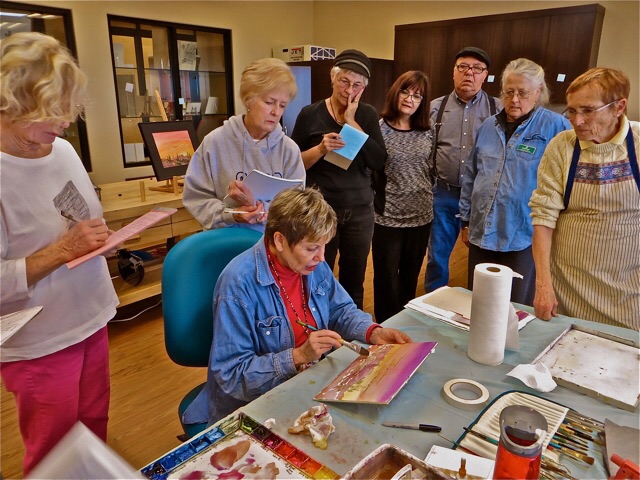 Each month members can participate in classes, open studio time, plein air field trips, workshops and special events. Come and enjoy getting to know your Quail Creek neighbors and learn more about art.
As a member you are able to register for our wide variety of classes. You can have fun painting outdoors on a plein air field trip or work on your own during open studio. Participate in contests and opportunities to sell your work, if you want. It's your choice.
Whether your interests lie in watercolor, acrylic, pastels, oils, scratchboard, drawing, or mixed media, there's something for you in the painting club. We welcome visitors during open studio times and at our monthly membership meeting. Come explore your creative side with the Fine Arts Painting Club.